Wizard Rock Returns to Edinburgh for 2010 Snow Ball; Tickets Now on Sale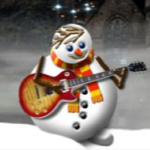 Sep 16, 2010
A new microsite has been launched for the 2010 Snow Ball in Edinburgh, Scotland with information about the show itself, where to stay, how to buy tickets and more. Following the success of last year's inaugural Snow Ball, the organisers have added a special library show to the 2010 line up. The 14+ main event – featuring Wizard Rockers Riddle TM, Romilda Vane and the Chocolate Cauldrons, Siriusly Hazza P and Swish and Flick – will take place at 7pm on the 17th of December in The Lot, with the free all ages library show taking place the following day.
Tickets for the main event are now on sale at the website for £13 each – £1 from every ticket sold will benefit The Harry Potter Alliance and Cancer Research UK – and a Charity Raffle will take place at 11pm on the 17th of December during the main event .
You can find the new website at this link.