Magic is Might! "Deathly Hallows" Trailer Preview Image Released (Updated)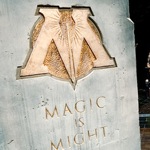 Sep 22, 2010
As a preview for the "Harry Potter and the Deathly Hallows: Part 1" trailer which will be released later today, WB has released this image from the trailer. This preview gives us a glimpse at the new order which has taken over at the Ministry, under the control of the ever-pink Dolores Umbridge.
Update: WB has released several more promotional stills from the "Deathly Hallows: Part 1" film, which you can see here in our Image Galleries. Among the new stills is our first look at the Seven Potters scene.
Check back to Leaky at 6pm PST (9pm EST) tonight to be the first to see the new "Deathly Hallows" trailer!