First Images from Oprah Interview with J. K. Rowling Now Online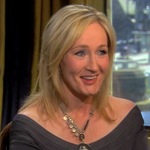 Sep 25, 2010
As readers will recall, an interview with Harry Potter author J. K. Rowling is set to air this coming Friday, October 1st, on the nationally syndicated Oprah Winfrey Show. The first glimpses of Ms. Rowling being interviewed have made their way online, and can be viewed right here in our Image Galleries.
Readers who able to capture video from the episode, please do email us at [email protected]!
Thanks to ScarPotter for the heads up!