New Images from Bonnie Wright's "Geography of the Hapless Heart"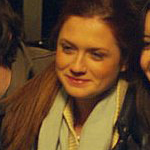 Sep 28, 2010
The official Facebook page for "Geography of the Hapless Heart," in which Bonnie Wright (Ginny Weasley) stars as Mia, has been updated with new stills and behind the scenes photos from filming. The updates on the page comment that filming in London was, "An intense shoot… thanks to our amazing cast and crew who worked 12 hour days."
"Geography of the Hapless Heart" is composed of five short films shot in five locations around the world. Wright plays a leading role in short film "Sweat," set in London. The stills can be found here in our galleries, while the behind the scenes photos can be found at this link, also in our galleries.
You can find the Facebook page for "Hapless Heart" at this link.
Many thanks to Kristi for emailing in!