PotterCast 225: Bootleg Edward Spoils Deathly Hallows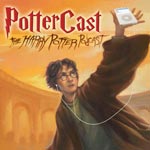 Sep 03, 2010
The 225th episode of PotterCast, our Harry Potter podcast, is now online for your listening pleasure! This episode has the latest Potter news, including Rupert Grint's appearance at the Regent Street Apple Store, the audio clip of "Deathly Hallows" footage from Comic-Con, Leaky's Wizarding World of Harry Potter iPhone and Android App and the Leaky Quotedown to "Deathly Hallows". Additionally, Leaky News Editor "Bootleg" Edward answers questions about "Harry Potter and the Deathly Hallows: Part 1″, which he had the chance to watch recently!
To listen, you can use iTunes or direct download! You don't need to own an iPod to listen to PotterCast.
As always, special thanks go out to our ever-vigilant and wonderful mods for monitoring the live PotterCast recordings.
LeakyCon 2011: A Harry Potter Conference in Orlando!
"Harry, A History" Website
Podcast Alley
Digg