J. K. Rowling Discusses Final Words of "Deathly Hallows" In New Clip from Oprah Interview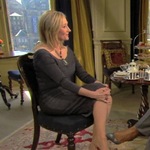 Sep 30, 2010
The official Harry Potter website on Scholastic.com has been updated with a preview clip from tomorrow's interview with Harry Potter J. K. Rowling on the Oprah Winfrey Show. In the thirty-six second clip, Ms. Rowling discusses her decision to change the final word of the Harry Potter and the Deathly Hallows book from "scar" to "All was well." You can watch this clip via this link.
Oprah's interview with J. K. Rowling is set to appear tomorrow, Friday, October 1, on the nationally syndicated program. Stay close to Leaky for up to the minute updates as this interview airs.
Any readers able to capture the video, please do email us at [email protected]ynews.com.