Leaky's Daily Quotedown to Deathly Hallows: 51 Days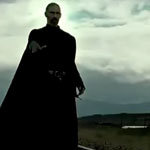 Sep 30, 2010
There are now only 51 days left until "Harry Potter and the Deathly Hallows: Part I" hits theaters! We are posting a quote from the first half of the book every day in celebration and to give us a chance to discuss and ponder the final book as it goes to film. Here are the latest quotes!

"Kreacher, I'd, er, like you to have this," he said, pressing the locket into the elf's hand. "This belonged to Regulus and I"m sure he'd want you to have it as a token of gratitude for what you –"

"Overkill, mate," said Ron as the elf took one look at the locket, let out a howl of shock and misery, and threw himself back onto the ground.
Harry Potter and the Deathly Hallows, "Kreacher's Tale"

"Oh yes. It is a copy — an excellent copy, it is true — but it was Wizard-made. The original was forged centuries ago by goblins and had certain properties only goblin-made armor possesses. Wherever the genuine sword of Gryffindor is, it is not a vault at Gringotts bank."
Harry Potter and the Deathly Hallows, "The Goblin's Revenge"