Actors in the News Weekly Roundup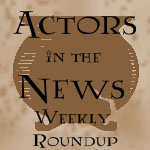 Sep 07, 2010
This week in actor news: red carpets, interviews and news of upcoming projects punctuated an otherwise slow week for the Harry Potter cast. Clemence Poesy (Fleur Delacour) attended the 67th Venice International Film Festival – a number of photos from Poesy at the film festival can be found here in our galleries. Poesy was photographed at the premiere for Winter release "Somewhere," written and directed by Sofia Coppola.
On Sunday, Michael Gambon (Albus Dumbledore) was interviewed on the BBC's The Andrew Marr Show. Speaking briefly about his role as Dumbledore in the Harry Potter films, Gambon describes his part as a "wonderful job" and mentions a recent encounter with a Potter fan in the street – om the interview Gambon also speaks of his past and future involvement in theatre. You can find a video of part of the interview here on the BBC website.
Our Order Partner RupertGrint.net have received confirmation that Rupert Grint (Ron Weasley) is to appear in a guest role in Come Fly With Me on the BBC. Come Fly With Me is the six-part follow up to Little Britain starring and written by comedians David Walliams and Matt Lucas; the series is scheduled to air later this year.
Lastly, David Tennant (Barty Crouch Jr.) attended the Emmy's on Sunday, 29th August. You can now find three photos of the actor on the red carpet here in the Leaky galleries. Tennant has been in the States filming a remake of 1985 vampire film Fright Night, to be released in cinemas on the 7th of October 2011.