"Deathly Hallows: Part 1″ Production Designer Stuart Craig Nominated for Excellence in Production Design Award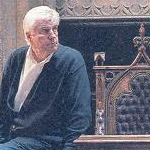 Jan 06, 2011
"Harry Potter and the Deathly Hallows: Part 1″ has been nominated for the Art Directors Guild's 15th Annual Excellence in Production Design Awards for 2010. "Hallows"' production designer Stuart Craig was nominated alongside the production designers for "Alice in Wonderland", "Inception", "Tron: Legacy" and "The Chronicles of Narnia: The Voyage of the Dawn Treader" in the Fantasy category.
The deadline for final voting is the 3rd of February and the winners will be announced at a black-tie ceremony on the 5th of February in the International Ballroom of the Beverly Hilton Hotel, Beverly Hills.
Cheers to Jamie for the heads up!