"Deathly Hallows: Part 1″ Nominated for Two BAFTA Film Awards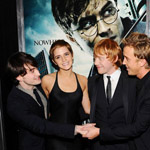 Jan 18, 2011
The British Academy of Film and Television Arts (BAFTA) this morning released the list of nominees for the 2011 Orange British Academy Film Awards. "Harry Potter and the Deathly Hallows: Part 1″ received two nods, for Special Visual Effects (Tim Burke, John Richardson, Nicolas Ait'Hadi, Christian Manz) and Make Up and Hair (Amanda Knight, Lisa Tomblin).
Additionally, a number of films starring members of the Harry Potter cast received nominations.
"The King's Speech", which stars Helena Bonham Carter (Bellatrix Lestrange), Michael Gambon (Albus Dumbledore) and Timothy Spall (Peter Pettigrew), received a total of twelve nominations, including Best Film. Alexandre Desplat, who composed the score for "Deathly Hallows: Part 1″ and "The King's Speech", was nominated for Original Music.
"Made in Dagenham", which stars Roger Lloyd-Pack (Barty Crouch) and Miranda Richardson (Rita Skeeter), was nominated for Outstanding British Film, Costume Design and Make Up and Hair. Miranda Richardson was nominated in the Supporting Actress category.
"Alice in Wonderland", which stars Alan Rickman (Severus Snape), Helena Bonham Carter, Timothy Spall and narrator of the British Harry Potter audiobooks Stephen Fry, received a nod for Original Music, Production Design, Costume Design, Special Visual Effects and Make Up and Hair.
The Awards Ceremony will take place on Sunday 13th of February at the Royal Opera House in London's Covent Garden.