David Heyman: BAFTA Award "Unexpected and a Treat"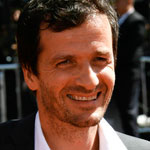 Feb 10, 2011
"Harry Potter" producer David Heyman has given a video interview to the BBC just days before he and author J.K. Rowling are due to be presented with the award for Outstanding Contribution to British Cinema.
The organizers for the BAFTA Film Awards announced last week that the "Harry Potter" film franchise will be presented with this honorary award during Sunday's ceremony in London.
In his interview with the BBC, Mr. Heyman spoke about receiving this recognition from BAFTA and the various contributions the franchise has made towards the British film industry. On a more personal note, he says, "Harry Potter has been unique, and I'm sure I'll never be part of something like this again."
The rest of Mr. Heyman's interview can be seen here.