J.K. Rowling "Actively Considering" Plans for E-Book Release of Harry Potter Series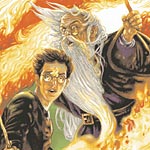 Apr 04, 2011
The Scotsman is today reporting a quote from J.K. Rowling's agent, which says that the Harry Potter author is "now actively considering plans for e-book versions" of the Harry Potter books.
The article speculates that the e-book rights that would need to be purchased to make the whole series available on the iPad and Kindle could fetch up to £100m (approx $161.64m USD).
Find the full article at this link.