"Harry Potter" Cast Sign Copies of "Deathly Hallows: Part 1″ DVD/Blu-ray in London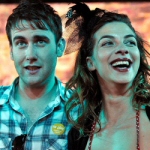 Apr 10, 2011
This evening in London, cast members from "Deathly Hallows: Part 1″ made a special appearance at HMV on Oxford Street to greet fans and sign copies of the just released DVD/Blu-ray.
Warwick Davis (Filius Flitwick/Griphook), Matthew Lewis (Neville Longbottom), Natalia Tena (Nymphadora Tonks), Evanna Lynch (Luna Lovegood), and Mark Williams (Arthur Weasley) were among the cast members in attendance.
Some early photos of the cast and fans can be seen via WireImage.