Harry Potter Covers This Week's Issue of Entertainment Weekly's Summer Movie Preview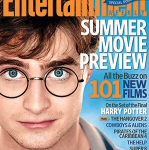 Apr 14, 2011
Entertainment Weekly's annual Summer Movie Preview is hitting newsstands tomorrow, and featured on the cover is Harry Potter himself.
"Deathly Hallows: Part 2″ is one of the many summer films highlighted in this issue with an on-set report including quotes from Daniel Radcliffe (Harry Potter) and Emma Watson (Hermione Granger). There are also some minor spoilers about changes that have been made for the final battle.
Here's a short preview from EW's website (SPOILER ALERT!):

In this week's cover story, we visit the stars and filmmakers on the set
and learn secrets of the final, climactic installment, which hits
theaters July 15. Such as? Well, for one thing, the final showdown
between Harry and evil Lord Voldemort (Ralph Fiennes) in a wand duel at
Hogwarts will be a little different from what author J.K. Rowling
described in her 2007 novel. This time, the chase leads through Hogwarts
and culminates in a very physical brawl as the two foes "apparate"
(i.e., teleport) toward and away from each other.
Entertainment Weekly goes on sale tomorrow, Friday, April 15th. We will post the scans from the feature once they are made available!