Launching Leaky's Monthly Wand Giveaway from Wizard Wood Wands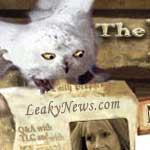 May 04, 2011
Leaky is excited to launch a new monthly giveaway with help from our friends over at Wizard Wood Wands, suppliers of the prizes for our traditional monthly contests. Our Monthly Wand Giveaway will select a randomly chosen entrant each month to receive a pre-crafted wand as part of this giveaway. Anyone may enter, including Leaky Staff, as long as they are over the age of 13 and have not received a wand as part of the giveaway in the past six months. Names entered two or more times will only be included once in the drawing and will therefore not increase your chances of winning.
In order to enter, simply email your full name to [email protected] To be eligible for the first giveaway, please submit your name by 11:59pm EST on Tuesday, May 31st. The winner of May's Wand Giveaway will be notified on or after June 1. For full terms and conditions, please be sure to click here!
Good luck and many thanks to Wizard Wood Wands!