Daniel Radcliffe Talks to Total Film About "Deathly Hallows" Split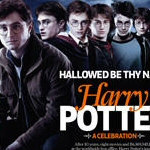 May 09, 2011
The upcoming issue of Total Film magazine will include a special commemorative feature on the Harry Potter universe in preparation for the "Deathly Hallows: Part 2″ release this summer.
A preview from their interview with Daniel Radcliffe (Harry Potter) is now online in which he goes into greater detail about the decision to split the film:

"If you come to me with a satisfactory adaptation of the seventh book into one film, then we can have this debate! All the books from the Goblet of Fire onwards were big, but with every one, you could cut swathes out without detracting from the main story."
On why this one's different, Radcliffe explained: "In the Deathly Hallows there are no subplots. It's all the same story and it's hard to lose a page."
The latest issue of Total Film goes on sale Thursday, May 12th.