New Actor Interviews: Rupert Grint, Natalia Tena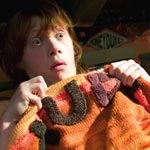 May 14, 2011
Parade magazine has a brand new interview with Rupert Grint (Ron Weasley) in which he talks about the filming the last film.

What were those last days on set like?
"[Harry Potter] was such a massive part of my life. It really has been my life. I can't really remember a life before it. For that to just all come down to just like, one day, and like one thing, just seems really strange. Yeah, it was emotional. There was a real sadness about it and quite an empty feeling. So, I remember packing up my room, boxing everything up and I had like, toys from when I was 10. It was weird."
Did you enjoy being in more of an action film and doing bigger stunts?
"It was quite cool to film that. There was a lot of running, which is not something I'm really that used to. There are big action shots of me running across a courtyard with giants swinging stuff at us and spiders. I loved all the stunts and when am I gonna get a chance to do that? But I didn't really have any injuries I don't think."

If J.K. Rowling ends up writing another book, would that be something that you would sign up for?
"I'm not sure. I wouldn't actually completely rule it out. I was always a big fan of the books and over the years I've become quite attached to Ron and we've meshed into the same person, really. But yeah, I don't know. I don't know how it would really work. I would like to play the middle-aged Ron, yeah. We'll have to wait and see."
Read the full interview at this link.
NYLON magazine has a short interview with Natalia Tena, who plays Tonks in the Harry Potter films.

Tell us about your new movie, You Instead?
We filmed the movie You
Instead in four and a half days at a festival. An entire feature! I've
never experienced anything like it. Exhilarating, exhausting, and
epic. I literally can't look at Red Bull in the same way again.
Read the full interview at this link and find out more about the film "You Instead" here on the official website. It premiered at the Glasgow Film Festival on the 25th of February earlier this year.