Second It All Ends "Deathly Hallows: Part 2″ Poster Online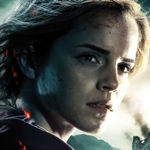 May 24, 2011
Hermionie Granger (portrayed by actress Emma Watson) is the subject of a newly released banner poster for the "Harry Potter and the Deathly Hallows: Part 2″ film. Released via WB's @HarryPotterFilm Twitter account, the stunning poster can be viewed right here.
As readers will recall, the first 'It All Ends' poster was revealed yesterday and featured actor Dan Radcliffe as Harry Potter.
The final installment of the Harry Potter film series will be released on July 15. 2011.