Pre-Order "Dear Mr. Potter" and Enter for a Chance to Win Amazing Prizes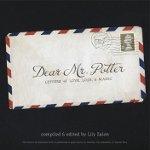 Jun 07, 2011
A few weeks ago, we reported that pre-orders were open for "Dear Mr. Potter: Letters of Love, Loss, and Magic." The book will feature hundreds of letters and pictures from fans and notable fandom figures who have been impacted and inspired by Harry Potter.
As an added bonus for those who have pre-ordered before the book's release, fans will automatically be entered into a draw to win a signed copy from actor Rupert Grint (Ron Weasley)! Between 15 to 20 winners will be selected.
Additionally, 50 fans that pre-order will also be randomly chosen to receive a customized Hogwarts letter with their copy of the book.
"Dear Mr. Potter" goes on sale July 1, 2011. All proceeds from the book will benefit the Harry Potter Alliance.