Video: Dan Radcliffe Records "How to Succeed" Cast Album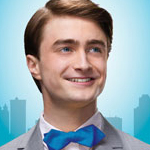 Jun 09, 2011
The "How to Succeed in Business Without Really Trying" YouTube channel has uploaded a brand new video featuring clips of Dan Radcliffe (Harry Potter) from the Broadway show and also being interviewed alongside his fellow cast members about the process of recording the musical's soundtrack. The cast speak about the differences between recording the cast album and performing the numbers on stage, as well as the legacy of "How to Succeed" on its 50th Anniversary. Radcliffe comments, "There is now a Daniel Radcliffe version of Finch and you do then feel that you're part of a lineage".
You can watch this video here on YouTube or embedded below:

Find more information about the musical and how to get tickets on the official website at this link.