J.K. Rowling to Trace French Ancestry in "Who Do You Think You Are?"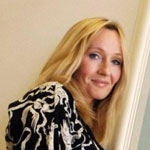 Jun 24, 2011
J.K. Rowling has been announced as one of the celebrity guests on the season premiere of the BBC show "Who Do You Think You Are?"
According to the show's official site:


Across the course of seven books and eight films, Jo Rowling's Harry Potter series has captured the imaginations of millions of people around the world. Who Do You Think You Are? sets out to explore the French ancestry of the author's mother.
An air date for the program has not yet been announced. Thanks SnitchSeeker for the tip!