July's 3D Deathly Hallows Scene Contest Announced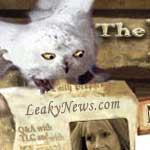 Jul 02, 2011
Our Contest Crew have announced their newest contest for the month of July, the 3D Deathly Hallows Scene Contest. This month's contest asks you to pick your favourite scene from the Deathly Hallows book, recreate it out of, well, almost anything, and then submit a photograph of it. Your creation can be life size, a shoebox diorama, or any size in between. You must submit an original photograph (having minimal photo manipulation – cropping is ok) of a scene that you create.
When submitting your entry, please include the name you would like to have appear with your photograph (real name or Leaky Lounge name) and submit one image of your scene in any of .jpg, .png, or .gif file format that is no more than 2 MB in size. Also, include a one sentence description identifying your scene in the body of your e-mail with your name. All submissions must be e-mailed to [email protected] by 11:59 pm (EDT) on July 31st, 2011 with "3D DH Scene" in the subject line of the e-mail.
The contest is open to anyone 13 years of age and over, including staff members who are not involved in the judging process, please only enter one entry per person and please do remember that all entries must meet PG-13 standards of decency and good taste. The first place winner will receive a handcrafted wand donated by Wizard Wood Wands (changes monthly) and 200 MyLeaky points. Second, third, and honorable mention(s) will receive 150, 100, and 50 MyLeaky points respectively. Read the full rules of the contest here and find the FAQ at this link.
Best of luck to all who enter!