Hogwarts on Fire, Snape's Final Moments, and Wrapping it all Up: Leaky's "Deathly Hallows: Part 2″ Set Report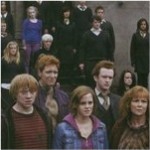 Jul 06, 2011
This is a follow up to our set report for the "Harry Potter and the Deathly Hallows: Part 1″ film, the full set report for "Harry Potter and the Deathly Hallows: Part 2." As readers will recall, in March 2010 I was fortunate enough to visit the set of the final film and interview the cast and crew as production on the series winded down. Here for you today is a look behind the scenes at production of Part 2, as well as the thoughts and experiences of some of the film's cast and crew. Needless to say, spoilers! Enjoy!
~~~*~~*~~~
Part One: Hogwarts Under Siege
Hogwarts is now ground zero in a war zone. It's unmistakable as you walk into the once welcoming castle courtyard"in reality, a set located on the grounds of Leavesden Studios outside London, England. It's a fairly clear and not-so rainy March day in England, perfect for touring the set.
The exterior of Hogwarts Castle is bruised by the onslaught of the Death Eaters. Scorched brick, rubble, rocks, trenches in the grass, and ash-covered actors in Hogwarts uniform make walking onto set feel as if you're stepping into war. It's March and the chilly night and eerie atmosphere is not warmed by the bright lights illumining the set as actors Maggie Smith (Professor McGonagall), Julie Walters (Molly Weasley), Matt Lewis (Neville Longbottom), and Warwick Davis (Professor Flitwick) get in place in front of the cameras. It's a night shoot, a scene that producer David Baron thinks of as the start of the Final Battle:

"The scene that's being shot today is the beginning of the final defense of Hogwarts where Snape's been expelled from the school, Voldemort's delivered his first ultimatum ˜Deliver Harry or you die,' and McGonagall is organizing the defenses¦ We've known its coming and we've had kind of a build up, but this is the real beginning of the end."
The actors, in full makeup and costume, rehearse their lines and check their marks as they run through the scene a few times under the direction of David Yates. The centerpiece of the set is an arched entrance to Hogwarts. Action begins a ways into the set with actors Maggie Smith, Matt Lewis, Warwick Davis, Julie Walters and Devon Murray walking towards a series of steps down to the grounds. Working to defend the school from Death Eaters, McGonagall directs Mr. Finnegan to use his "particular proclivity for pyrotechnics" against the Death Eaters as she sends the teachers off to cast protective enchantments over the school.
One line that stood out during filming was in response to Flitwick's use of ˜You Know Who.' McGonagall corrects him, "He's called Voldemort, Filius. You might as well use it. He's going to try and kill you either way." We watch as filming continues and Ms Smith reveals a wand and brandishes into the air, reciting a special incantation. From behind, a regiment of grey-clad actors march lock step from either side of her, blue-screened shields and swords displayed in front of them.
Such important and dramatic moments in the film are sprinkled with a touch of levity on set. In one take, Matt Lewis accidently treads on the billowing robe of Maggie Smith. She barely misses a step, and starts chuckling as they reset. In the final and perfect take we can see McGongall isn't playing around; and neither are the cast and crew of the last Harry Potter film as they work to bring the film series to a close.
Back in the press tent, the cast and crew are eager to further discuss the scene at hand. Warwick Davis, who, himself, is excited to "get some wand action this time' explains the scene thus:

"In this sequence, we're really putting up the shield around Hogwarts, bringing to life some of the stone statues, the guardians we have. It's interesting about rehearsing with Maggie in that it's a pivotal moment because they have this last resort to use this security system and we get all of the statues to come out and guard the perimeter and everything. It's a lock down situation for Hogwarts."
Mr. Davis goes on to speak at length about the intricate and time consuming process that is creating the special makeup for Griphook and the 60 plus actors portraying Goblins in the last part of the final film. To apply the makeup, it takes "about three to three and a half hours [for Flitwick], and the goblin Griphook is about four hours." To remove the makeup, "About an hour, hour and a half, somewhere in that area. You have to be very careful, especially when I'm working subsequent days. It doesn't come off Mrs. Doubtfire style. I wish it was that easy."
In addition to his traditional acting role in this Potter film, Mr. Davis had a second job as a casting agent, of sorts, for sixty short actors to take on the roles of goblins in the Gringotts heist scene¦ a "tall order' Mr. Davis jokes.

"I do have a third hat. Without the big scar, I do have that third hat. It's really an honor to even have been asked. It's nice to provide 60 short actors to play goblins. It was also a great challenge to find enough people under the height that they wanted who had the abilities and the stamina to play the goblin [character]."
Part 2: Snape and Separating the Films
While on set, one word seemed to be across everyone's lips: Snape. Recently, it turned out, Alan Rickman had been on set to film his death scene for the final film. The scene, which we found out to now take place in the Hogwarts boathouse and not the Shrieking Shack, was one that moved all on set who saw it. Production Designer Stuart Craig explains:

"He's just so good! Even on dailies his death is extremely moving. With J. K. Rowling's permission, we did make a departure there. Snape dies in the Shrieking Shack in the book, and the Shrieking Shack is an interesting interior but it didn't have, somehow, the breadth and the romanticism that I think Snape's death required. So we made something of the Boat House which has always been there beneath Hogwarts, it's supposedly the place where first years on their arrival cross into the castle while everyone else goes round by road. It now has a real sense of place. He dies somewhere which is very atmospheric. You're looking out over the lake, to the mountains across the lake, the school in flames above¦ it's exposed and influenced by the atmospherics of all those things. So, I think it's a suitable setting for a magnificent death really."
Radcliffe continued the praise of Mr. Rickman's performance by saying:

"It's pretty violent¦ was impressed. Nagini offs him. It's a great scene. There's a great thing we do in this film which I love. Which is, we keep saying, "The boat house? We never mentioned the boathouse before in any of the other films! I didn't even know Hogwarts had a boathouse! But that's where it takes place and it's a great set. It's an impressive scene; Alan plays it wonderfully and beautifully. All the stuff about Harry's mother… he plays it all as you'd expect him to¦ wonderfully. It was a pleasure to be there and see Alan give that performance."
Later in the day, we had the opportunity to speak with director David Yayes, who spoke at length about the kind of film "Harry Potter and the Deathly Hallows: Part 2″ is compared to Part One, and how they work together. Quoteage:

"What's really potentially fun about Part Two is I always feel these movies carry a lot of freight where you need to remind the audience where you've been and where you're going. And they always say first acts tend to be slightly tricky because we're setting things up. And I love the notion of parachuting straight in. I love the notion that the audience have experienced six or seven of these movies and they don't need an intro and they don't need a big bang¦ So, the notion where you parachute straight in and from the first minute you're going¦ just going¦ I think is really fun. And Steve [Kloves] wrote a first draft of the second part with that spirit. When I first read it, I said, ˜Steve, this is great! It doesn't have a beginning.' It just goes, you're in it and it's off. And I really liked that, where you just parachute the audience straight in. And we're away. So that's the spirit of how we're approaching Part Two."
This film, he continues, has "a different dynamic, actually. The style [compared] to Part Two to Part One¦ we always say these films are slightly about coming of age, but when you take these iconic characters out of that framework of Hogwarts and you put them in a dangerous world¦ There are all sorts of corners that you turn because they're young adults. Turing those corners in the real world is actually quite fun an interesting."
In regards to the film as a whole, Yates says to expect a bit of a departure from Part One, but one of the most challenging parts was incorporating everything detailed in the book into one film. He continues:

"It's a real challenge, obviously. That's what will make the film, hopefully, feel of it self. That it isn't just a war film with loads of action… there's lots of action, but here are these wonderful moments that fans of the book and fans of the series will absolutely relish. Discovering the truth about Snape, discovering Harry's a horcrux… those things really big moments in this saga, and the pivotal moments in the movie. So, stopping the movie for them, I think, will work in a weird way. I suspect it'll work much more for the fans, much more than those who have been left behind by Potter, who haven't quite bought into Potter. But I think that's what will make the last film particularly interesting, that it flips from this roller coaster to this, we're just going to stop and we're going to tell you, actually, what happened twenty years ago now. I think that's going to be really fun, but really tricky.
"The magic and the fighting feel very visceral and quite fast. So I want you to feel how dangerous magic is, and I want you to feel how awesome it is when people start killing each other. The thing about big epic battles now is it feels sort of like they've been done, to an extent. So we've got an element of that, there's a sense of scale, there's a sense of epic, but I wanted it to feel more in the moment.
"I wanted that section, once the battle starts, to have a great deal of intercutting. Harry's race to find the horcrux is juxtaposed by Voldemort's incursions into the school. There's that dynamic to it."
Radcliffe aggress, "There's part of the film, at that point [Harry's hunt for the diadem], Harry splits off from Ron and Hermione and you follow the story separately and they're intercut. It's so non-stop, the second part of the film, you won't have time to think about the pacing, it'll just be happening to you."
One of those moments that happen in the heat of battle, according to Radcliffe, is a brief kiss between his character Harry and Ginny, portrayed by Bonnie Wright. He explains, "There's a couple of kissing scenes, there's even a kiss in the Battle at one point, which, I must say, was my suggestion. There always has to be [time for it]. It's done in a much less dramatic way, and it's more (hurried) we're talking and going and talking and "kiss" Okay, bye. It's like you're going out the door in a rush. It was more like that, you know? It was good. It was suggestion actually, because it is potentially the last time they see each other and they don't have long, and it certainly seemed¦ if I was in that situation I certainly would have kissed almost anyone, you know, if I thought the end was coming. (laughs) So, yeah, the Ginny relationship does blossom and, eventually, she is my wife. Which is very exciting.
Following on that subject, Mr. Radcliffe talks a bit about the Epilogue, and makeup tests the actors participated in prior to filming. Of note, Radcliffe, explains is Ron's test makeup as Ron, "I haven't seen the ones on Emma or Bonnie, but I did see Rupert's. It was quite funny. They've gone down the route you want to with him, I think. He's not missed too many lunches."
One final question brings us back to Harry's overall journey from boy to man. "That's what I think is very important: is that he's not at any point, really", says Radcliffe. "He's still a seventeen year old boy. He grows up hugely in this film, no more than so at the end when he makes the decision at King's Cross Station with Dumbledore and rather than going on, he makes the decision to go back rather than dying the death he has already suffered. Going on to a peaceful afterlife. He decides to go back, I mean, at no moment more than that is he close to being a man, I suppose. But he is still a boy and that's what makes it so effective and so awful when Voldemort is trying to kill him. He really beats seven bells out of me, he does, and it makes it more upsetting if it's a fight between a man and a kid."
Part Three: Sets, Props, and Looking Back
The outside of the castle is not the only place where signs of battle can be found. At the time of our visit, the Great Hall had just been rebuilt following its destruction during battle filming. Tables and all other recognizable comforts were gone from the room, leaving a barren space. Moving on from the Great Hall, we walk through this massive old airplane hanger (now converted into studios) and see piles and piles of props scattered across every stationary surface. Of particular note is a cage of tiny gold diadems, stacked over six feet tall. It would seem that not all of the tiny gold objects are created thanks to special effects in the film.
My favorite set, by far, is the Room of Requirement. The set itself had been used in other ways throughout the film, but today it houses Dumledore's Army. This set goes beyond just being cluttered or lived in; it breathes resistance movement shelter. Cots, sleeping bags, inkwells, blankets, pillows, dirty clothes, towels, cups, old issues of The Quibbler, shaving kits… everything you could imagine is strewn strategically around the set. It's nearly impossible to think of the time and creativity it took the set designers to dress this room.
As I described before, the exterior sets where we watched filming were especially moving to see. Standing there in a Hogwarts courtyard was really the perfect way to wrap up a day on the Harry Potter set.
After about an hour of watching the cast and crew create the scene, we head off back to our bus for the day. After nearly twelve hours on set we are still as excited as we were when we first arrived. Walking down a path to the bus, I happen to turn to see, in the distance, a short row of immaculate houses down a small street. Not a second later I realize I'm looking at Privet Drive"well, the set for Privet Drive. As we drive away I can still see the neat row of houses in the distance. They're lit and have an eerie glow about them. This image brought me right back to watching the movies for the first time; Dumbledore placing Harry on the Dursley's front stoop, putting out the lights with his put-outer. I looked back to the set, and, like magic, the lights along Privet Drive went out.
"Harry Potter and the Deathly Hallows: Part 2″ arrives in theaters July 15th.