Pottermore Releases Two New Preview Screenshots for Hogwarts Express Pages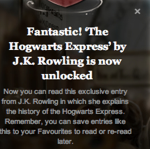 Jul 08, 2011
Pottermore have released two new preview images from the pages for the Hogwarts Express via their Twitter account, the first showing the train and announcing:

Fantastic! 'The Hogwarts Express' by J.K. Rowling is now unlocked. Now you can read this exclusive entry from J.K. Rowling in which she explains the history of the Hogwarts Express. Remember, you can save entries like this to your Favourites to read or re-read later.
Immediately below a button reads "New from J.K. Rowling". Find the picture via this link; the accompanying tweet announces "Sneak peek number two: discovering some exclusive J.K. Rowling content".
The second preview page, which you can find at this link, features the first sentence in the entry for The Hogwarts Express and reads as follows under a header that says "New from J.K. Rowling":

As we know from early historical accounts, and from the evidence of early woodcuts and engravings, Hogwarts students used to arrive at school in any manner that caught their fancy. Some rode [sic]
On the right hand side of the page, under a header "From the story", the text reads, "The Hogwarts Express is a scarlet steam engine that". In both cases, the rest of the text has been blurred out. The page also has two buttons, one to "Add to Favourites" and the other a "Like" button, not unlike those found on Facebook pages. The announcing tweet reads, "Preview number three: 'New from J.K. Rowling' …"
The images can be found here and here in our galleries. Have a look at the already released publicity screenshots for Pottermore here in our image galleries, including a textless page for The Hogwarts Express.