Wired's 13 Behind-the-Scenes Facts About the Harry Poter Films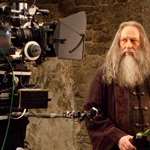 Jul 26, 2011
Wired.co.uk has published a slideshow with interesting facts and behind-the-scenes information about the eight Harry Potter films.
Some of the fun facts revolve around the Great Hall (which can fit 22 double-decker buses), the wands manufactured for the actors, creatures built, and creating the gold for the Lestrange vault (210,000 coins!).

Harry Potter's identifying scar has been applied by makeup teams an approximate 5,800 times. While Radcliffe makes up a meaty 2,000 times of that application, the rest have been on the foreheads of stunt doubles and film doubles, who all wear the scar. Although Radcliffe's favourite prop is his glasses, he has been through 160 pairs of them during the shooting of the franchise, many of which do not feature glass as this reflected the cameras too often.
Read even more information about the making of the Harry Potter films at this link.