Daniel Radcliffe Records Video Message for Military Families As Part of Joining Forces Campaign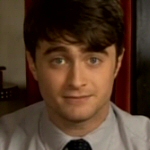 Jul 28, 2011
First Lady Michelle Obama recently enlisted the help of actor Daniel Radcliffe (Harry Potter) to thank military families who were invited to a special screening of "Harry Potter and the Deathly Hallows: Part 2."
The screening was part of Joining Forces, "a national initiative that gives our service members and their families the opportunities and support they have earned."
A video of Mrs. Obama at the Naval Air Station (NAS) Oceana's Summer Youth Camp and Mr. Radcliffe's accompanying video message was released by the White House and can be seen below.
A transcript of Mr. Radcliffe's speech:

Hi there everybody at the Naval Air Station Oceana. I'm Daniel Radcliffe and I'm thrilled to be here to introduce part of the screening for "Harry Potter and the Deathly Hallows: Part 2″ in conjunction with Mrs. Obama's Joining Forces campaign. I just want to say that I hope you enjoy the film. I've a few friends in various branches of the British military so I know how hard you guys work and the tremendous courage it takes to do what you do, and the commitment you've shown to your country and the discipline in your lives. It's amazing. Though I play a hero on screen, there is very little heroic about me in real life, and you guys, I will leave that all to you. Thank you very very much, and I hope you enjoy the film.