Matthew Lewis Talks to Plush Magazine About Harry Potter and Living in Leeds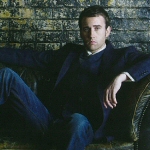 Aug 06, 2011
Actor Matthew Lewis (Neville Longbottom) recently spoke with Plush Magazine, a free publication distributed near his hometown in Leeds.
In the interview, Lewis talks about staying in Leeds instead of moving to London like most actors, and what the end of Harry Potter means to him. Lewis also mentions being starstruck by actor Rik Mayall who was originally cast to play Peeves in "Sorcerer's Stone" before the part was cut from the films.
A scan of his interview in Plush can be seen at this link.

"There's just something about [Leeds], whether it's my group of friends, I don't know really, but I just don't really want to move away, and I don't have a reason to anyway. I just don't want to. Leeds is where I want to be."
"…it's obviously a sad time coming to the end of something that's so much fun, and all the people, the cast, the crew, just such great fun to be around, but at the same time I was always looking forward to coming back to Leeds, to my friends here, and then the next chapter really….I'm ready for that next step. You look at it like an autobiography, and this is the next page and it's not been written and it's exciting. For the first time in 10 years I don't know what I'm doing next, and that's pretty cool."
Thank you, Sandra, for sending this in!