More Pottermore Welcome Emails Sent; Have You Gained Access Yet?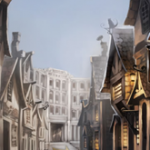 Sep 06, 2011
It seems as if the Pottermore owls are being sent out with even more regularity this week, as the Pottermore Insider Blog has been updated again noting even more welcome emails have just been sent to early beta access users.
A question now for Leaky readers: Have you gotten beta access to Pottermore yet? If you've been among the lucky bunch to gain early access to the site, please do share your thoughts in the comments below. We may feature your review in a future update!