Introducing the new LeakyNews.com: Leaky's New Multifandom Site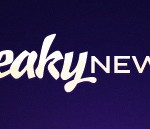 Sep 20, 2011
For several years we have been telling you to use LeakyNews.com as a quick shortcut to get to our admittedly difficult-to-remember domain name, the-leaky-cauldron.org. Yet as soon as we got the name and started using it, we realized that it had the potential to be its own entertainment site. The idea of getting your news as soon as it "leaks," the continuation of the kind of exhaustive coverage we do on Harry Potter with all the other things we love… the idea had merit, but we got busy with other things, namely covering the releases of the final books and films, and LeakyCon.
It was at this year's LeakyCon, however, that things started to come together and the right pieces fell into place: and now we're thrilled to announce the Leaky team's newest venture, the brand new LeakyNews.com.
Firstly: The Leaky Cauldron and LeakyCon are still Harry Potter. That has not changed and won't any time soon! We are still your number one Harry Potter community online and do not anticipate any difference in how often we update or how the site functions.
LeakyNews is a site made by fans. It is based on the idea that we as fans of things are the most detailed reporters and even the best loving critics of the things we love. To that end we have started purposefully small, with just a handful of fandoms — Harry Potter, StarKid, Glee, The Hunger Games, Game of Thrones, Doctor Who — with other scattered coverage throughout. This list is solely composed of the things we wanted most to cover. For the rest, we're dependent on you: for our native "submit" feature, which allows anyone with a login to submit a piece on your favorite topic, or, if you want to contribute more frequently, to apply to become part of our writing team. You can find out how to do all those things right on LeakyNews.com's main page.
This is a really exciting time for us: it's fulfilling a several-years-long dream of the editors of this site, and a bit like the Leaky name is growing up. Instead of being one of a few large sites on one topic, we are one of MANY – hundreds, perhaps thousands – sites that are on many topics. Yet we're full of excitement and possibility and have a metric ton of ideas for making the site engaging and fun.
The site was designed by Jordan Edwards and made real by Andy Friel; Edward from Leaky will be covering Harry Potter there while Rosi will be handling Doctor Who and The Hunger Games news – I will be getting my Game of Thrones geek on with you all.
Don't forget you can follow us on Twitter and like us on Facebook – we would really appreciate it if you did!
See you over there, Leakies!