One More Chance to see "Deathly Hallows: Part 2″ in UK Theaters; 3D Poster Revealed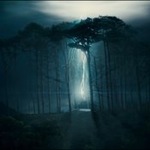 Sep 26, 2011
WB shared the news this morning that UK Harry Potter fans will have one more oppertunity to see the final installment of the film series, "Harry Potter and the Deathly Hallows: Part 2," in theaters before the film comes out on DVD this November. A press release details:

As a special celebration of the film event of a generation, UK cinemagoers who see the film at participating cinemas between September 30th and the 2nd of October will get a free limited edition lenticular (3D) poster from the cinema box office when they collect their ticket. Posters will be available strictly on a first come first served basis on all tickets purchased to see this film during the qualifying period.
Additionally, WB has shared with us a 3D poster from the film, featuring Dan Radcliffe as Harry Potter and Ralph Fiennes as Lord Voldemort. Check out the picture below!

To see a full list of participating theaters, check out the list here.