Pottermore Extends Beta Test Period, Answers October Launch Questions and More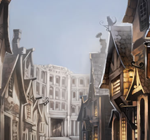 Sep 30, 2011
The Pottermore Insider Blog was updated this morning to share news about the next steps for the Pottermore launch, following the completion of early beta access a few days ago. In the blog post, Pottermore tells of the decision to extend the beta access period beyond September, but will continue on its plan to begin regular registration to all at the end of October. However, the regular registration will now begin in "phases." The Insider explains:

Since the launch of the Beta, we've seen really high levels of activity, and interaction with the site has been phenomenal. This affects how quickly we can give everyone access. As a result, we've decided to extend the Beta period beyond September and take a different approach to the way new users are brought onto the site.
From the end of October, registration will be opened to everyone and we'll be giving access to registered users in phases. Access may be granted quickly, but please note it could also take some weeks or months, depending on demand.
We are also making a number of enhancements and simplifications to Pottermore, in order to make the site smoother and more enjoyable – so existing Beta users will likely experience some changes when new users begin to join.
Finally, the Pottermore Shop, which will sell the Harry Potter eBooks and digital audio books, will now open in the first half of 2012, in order to allow us to focus on our first priority: opening Pottermore to as many people as possible and making the experience as good as it can be.
In addition to this news, the blog post answered a number of new user questions regarding the overall functionality of the site, when certian areas such as dueling will be back online, and more. To read the full post, click here!