Congresswoman Giffords Looking at Pages of Harry Potter as Part of Recovery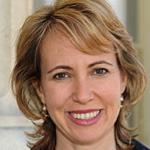 Jan 19, 2011
A New York Times article about the recovery of the critically injured U.S. Congresswoman Gabrielle Giffords revealed that Congresswoman Giffords has begun to show some impressive signs of progress, including looking at "pages of large-print text taken from a Harry Potter book".
Ms. Giffords was one of the victims of a shooting near Tucson, Arizona just under a fortnight ago in which six people were killed and another thirteen injured.
Thanks for the heads up Hank!