"Deathly Hallows: Part 1" Nominated for Two Academy Awards (Updated)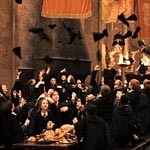 Jan 25, 2011
The Academy of Motion Picture Arts and Sciences this morning released the nominations for the 83rd Academy Awards. "Harry Potter and the Deathly Hallows: Part 1" was nominated for two Oscars.
The film is up for the Art Direction award, facing competition from "Alice in Wonderland", "Inception", "The King's Speech" and "True Grit". Named in the nomination are Stuart Craig (Production Design) and Stephenie McMillan (Set Decoration).
"Deathly Hallows: Part 1" was also nominated in the Visual Effects category. Named in the nomination are Tim Burke, John Richardson, Christian Manz and Nicolas Aithadi. Also nominated in the same category are "Alice in Wonderland", "Hereafter", "Inception" and "Iron Man 2".
To see the full list of nominations, take a look at the Academy Awards website, at this link. The 83rd Academy Awards will take place on the 27th of February, with the red carpet at 3.30pm Pacific and the Awards Show at 5pm.
Update: A number of films starring members of the Harry Potter cast were also nominated.
"Another Year" – which stars Jim Broadbent (Slughorn), Imelda Staunton (Umbridge), David Bradley (Filch) – was nominated in the Original Screenplay category.
"The King's Speech", which stars Helena Bonham
Carter (Bellatrix Lestrange), Michael Gambon (Albus Dumbledore) and
Timothy Spall (Peter Pettigrew), received a total of twelve nominations,
including Best Motion Picture of the Year and a nomination for Bonham Carter in the Performance by an Actress in a Supporting Role category. Alexandre Desplat, who composed the score for
"Deathly Hallows: Part 1" and "The King's Speech", was nominated for
Original Score.
"Alice in Wonderland", which stars Alan Rickman
(Severus Snape), Helena Bonham Carter, Timothy Spall and narrator of the
British Harry Potter audiobooks Stephen Fry, received a nod in three categories: Visual Effects, Costume Design and Art Direction.