Emma Watson in Elle UK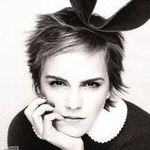 Oct 04, 2011
Emma Watson recently did a photoshoot for the November issue of Elle UK magazine. You can see the photoshoot here in our galleries. Some of the images include quotes from Watson.
Additionally, we have a video of Watson being interviewed during the photoshoot which you can see here or below.
Many thanks to SnitchSeeker!