New York Times Profiles Emma Watson's New Role in "Perks of Being a Wallflower"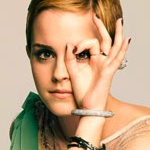 Oct 06, 2011
The New York Times has published a new report featuring actress Emma Watson (Hermione Granger) from when they visited her on the set of her new film, "The Perks of Being a Wallflower," over the summer.
Ms. Watson speaks about her new experiences on a film set worlds away from "Harry Potter," bonding with her new co-stars and influencing filmmakers in Hollywood to invest in "Perks."

"Oh my goodness, so many firsts' she said, speaking in an excited rush
during a break from filming. "I did the prom! We all get dressed up and
we go in a limo, and get photographs. It's been really fun for me to get
to graduate. Eating in the school canteen; all these things that I've
always sort of said to my American friends, ˜Oh, that looks amazing,
that looks so fun, I'm jealous.' And I get to do it for this movie."

"That's a different chapter of my life, which, kind of through doing
this, feels like it's closed' she said [referring to Potter]. She pointed to a scene in
"Perks" as symbolic of her new beginning: standing in the back of a
pickup truck, she and her high school crew take a late-night joyride
through the Fort Pitt Tunnel, the city lights shining on the other end.

"Summit didn't want me to do the stunt, but I insisted' she said, even
though she was scared. "The car's moving at 60 miles per hour, I had one
little thing attaching me to the truck' she recalled. She ended up
going through seven or eight times, screaming her guts out. "Oh my God,
it was so fun' she said. "One of the best nights of my life, without a
doubt."
A new image still from the film of Ms. Watson as Sam along with co-star Logan Lerman (Charlie) accompanied the article. A release date for "The Perks of Being a Wallflower" has not yet been announced.