Team StarKid Announces Tour Schedule for S.P.A.C.E. Tour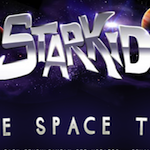 Oct 06, 2011
Team StarKid have announced, via video on their YouTube channel, the dates and locations for an upcoming tour across North America. Entitled The Space Tour, members from Team StarKid will be headed around the Midwest and East Coast during the month of November. The tour schedule is as follows:
11/4: Ann Arbor
11/5: Ontario
11/6: Toronto
11/7: Cleveland
11/8: Chicago
11/10: New Orleans
11/12: Austin
11/13: Dallas
11/15: Atlanta
11/19: Charlotte
11/20: Silver Spring
11/22: Cincinnati
11/25: Boston
11/26: New York (two shows)
Tickets go on sale to the general public this Saturday, October 8th, at 10am EST, but followers of their Facebook and Twitter accounts will have access to a special pre-sale starting Friday evening, 10/07/11, at 7pm EST. Pricing starts at $22-$35, but fifty VIP tickets will be available for each venue, ranging from $50-$70, depending on the venue. Complete information can be found on the official Team StarKid website.