James and Oliver Phelps attend 45th Co-operative Film Festival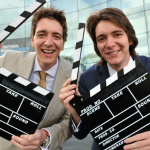 Oct 07, 2011
James and Oliver Phelps (the Weasley twins) helped officially open the 45th annual Co-operative Film Festival in Bradford, England on Thursday.
A video at the Telegraph & Argus website features the twins talking about their experience being a part of the Harry Potter films: balancing schoolwork and filming, being recognized in public, and what they would be doing if they weren't actors. The Phelps also took part in an autograph session with festival-goers.
You can read more about the Co-operative Film Festival at this link.