A Statistical Analysis of Quidditch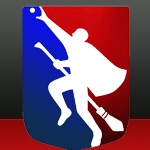 Oct 09, 2011
For a little fun to wrap up your weekend, a sports blog has posted an interesting, statistically oriented look at the game of Quidditch:
Gryffindor is always considered the best team, but why do they always
lose to Hufflepuff? After Harry's nigh immediate Snitch catch in his
first year during the Snape-refereed match against Hufflepuff,
Gryffindor never again beats the supposedly hapless hosers of
Hufflepuff, losing in "The Dementor Game" (when Harry's Nimbus Two
Thousand is broken), the "Ron Lets In 24 Goals in 22 Minutes" Game (which we'll get to), and the "Cormac McLaggen Game" (when Cormac hits Harry in the face with a bludger).
Further on in the article, Ron's poor goalkeeping is analyzed as well as the fact that Ginny might be a better Seeker than Harry.
Many thanks to Jose M. for sending this our way!