Rupert Grint to Appear at Harry Potter Home Entertainment Celebration; Wins at BBC Radio 1's Teen Awards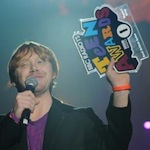 Oct 09, 2011
We have two bits of Rupert Grint (Ron Weasley) news to share with you this evening. First, Mr. Grint has been added to the list of Harry Potter cast members scheduled to appear at WB's Harry Potter Home Entertainment Celebration, formally titled the "Wizarding World of Harry Potter November Celebration," at Universal Orlando Resort. As readers will recall, James and Oliver Phelps (Fred and George Weasley), Warwick Davis (Professor Flitwick, Griphook), Evanna Lynch ( Luna Lovegood), Mark Williams (Arthur Weasley), David Bradley (Argus Filch), Jessie Cave (Lavender Brown) have been previously scheduled to appear as part of the event which takes place at the Wizarding World of Harry Potter from November 11th – 13th.
Secondly, Mr. Grint was the recipient of the Best British Actor at tonight's BBC Radio 1 Teen Awards. Nominated for his performance in "Harry Potter and the Deathly Hallows: Part 2," the actor joked upon acceptance by saying, "I'm just the ginger one in the background, this shouldn't be happening!" A photo of Mr. Grint accepting the award may be seen via this link.
Many thanks to Hypable for the tip!