Video: JK Rowling Talks McGonagall and Snape's Fight in "Deathly Hallows"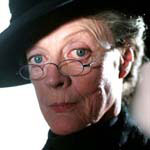 Nov 02, 2011
MTV News has posted an exclusive clip from The Women of Harry Potter, a special feature to be included on the "Deathly Hallows: Part 2" Blu-ray and DVD.
In the clip, author JK Rowling talks about the showdown between Professors McGonagall and Snape. Ms. Rowling admits that in a very early draft of the film's script, screenwriter Steve Kloves had Harry Potter facing off against Snape, but she was not satisfied with that.
"I don't like the marginalization of women when the fighting breaks out.
We get to fight too. I really wanted that," she explained. "In the book, Minerva
McGonagall is the one who does it and for me it was very important that
she did that."
Bonnie Wright, who plays Ginny Weasley, is also included in the clip. On McGonagall's role in the film, she says:
"Teachers have been so repressed in how they see Hogwarts. Obviously
from its new sort of ruling, you can see that they're just itching for
their fight back against evil and I love that. Professor McGonagall, she
just completely shows what she's made of."
Watch the video at this link or embedded below:
style="background-color:#000000;width:520px;">style="padding:4px;">

Get More: Movie Trailers, Movies Blog
"Harry Potter and the Deathly Hallows: Part 2" will be released on Blu-ray and DVD on Nov. 11 in the U.S. and Dec. 2 in the U.K.