JK Rowling Buries Time Capsule in Edinburgh to Mark Building Work of MS Clinic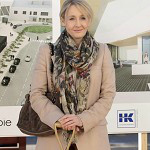 Nov 07, 2011
Author JK Rowling has buried a time capsule to commemorate the start of construction on the Anne Rowling Regenerative Neurology Clinic at the University of Edinburgh.
The clinic will be named after Ms. Rowling's mother following a £10 million donation the author made.
The Press Association reports that the time capsule consists of written accounts by patients living with multiple sclerosis and clinicians commenting on their hopes for treatments in the future.
At the ceremony, Ms. Rowling said:
"I am both delighted and moved to be marking the start of the
official building work for the Anne Rowling Regenerative Neurology
Clinic. This time capsule captures how it is for people living with MS
and other neurodegenerative diseases right now, and the current state of
research.

"I believe that this clinic will have a huge positive
effect on both of those areas in the future. I am enormously impressed
in what has gone into setting up the clinic so far, and I look forward
to seeing it completed and making further great strides in research and
treatment."