Ralph Fiennes Talks Upcoming Film and Playing Voldemort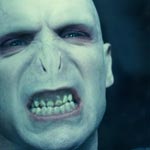 Dec 02, 2011
Ralph Fiennes (Voldemort) recently did an interview where he dicussed his upcoming project of playing the lead in a new adaptation of "Coriolanus," as well as some reflections on his role in Harry Potter:
How did it feel to finally wrap the "Potter" series up after such a commitment?
I think it's come to its natural end. I think it was good that it ended.
It seemed to be there for just the right amount of time and it
sustained itself very well. Warner Bros. and the producers were smart in
the way they kept up to speed with the changing taste of their
audience. The series sort of grew up with its core audience as they grew
up and got darker and tougher and kind of quite adult in the end, I
think. I thought they handled it brilliantly. It was really smartly
produced, cleverly produced to be big entertainment, but to have a
smartness about it. Every department, its design, its look.
Fiennes also talked about whether he inspires fear in children who happen to see him:
So has any young child ever cried upon seeing you, thinking they've just seen Voldemort in the flesh?
Have you not read the story? On [the "Harry Potter" set] the child of
the script supervisor was sitting in a chair and I just walked past and
looked and the child dissolved into tears. Very satisfying.
Amazing. But never in public?
No. I mean I had all of the makeup on and stuff.
The article, which you can read here, goes on to discuss his involvement in "Coriolanus," the trailer for which can be seen here.