Butterbeer Toast at Universal LA Tomorrow, Rumors of Universal Florida Wizarding World Expansion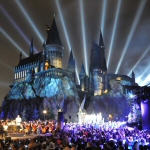 Dec 05, 2011
Tomorrow, at Universal Studios Los Angeles, executives will be on hand to make a very special annoucement:
Universal announced the event, stating in an email that it would be
"hosting a Butterbeer toast to celebrate a very special announcement."
People close to the matter but not authorized to discuss the event
beforehand confirmed it would be the unveiling of plans to duplicate the
massively successful Wizarding World of Harry Potter attraction from
Universal Studios Orlando at the L.A. theme park.
Top executives from Warner Bros., which made the "Potter" films and
controls licensing rights to author J.K. Rowling's books about the boy
wizard, will be in attendance along with those from Universal. They will
include the leaders of both companies: Warner Chairman Barry Meyer and
Universal President Ron Meyer (no relation).
…
The attraction isn't expected to open at Universal's Los Angeles
location " right next to its film and television studio in Universal
City " until 2015 at the earliest.
In addition to this news, ScreamScape is reporting on rumors of expansion plans for the Wizarding World of Harry Potter in Universal Orlando:
If my various sources are correct, the Amity / Jaws area will be
replaced by the proposed Phase 2 expansion of the Wizarding World of
Harry Potter. Now, before you flip out¦ lets go over it all, because for
starters this really isn't going to be the Wizarding World of Harry
Potter at all. Instead, from what I've been able to gather, the new
land to be build in Universal Studios Florida will actually represent
the "London" side of the PotterVerse¦ including an entrance to the
infamous Diagon Alley.
Diagon Alley, as seen in the movies, is
home to infamous locations such as The Leaky Cauldron, Gringott's
Wizarding Bank and the true Ollivanders wand shop location, as seen in
the films. The London location is also said to be home to King's Cross
station, where students would board the Hogwarts Express train from
Platform 9 ¾.
Many of these locations have been mentioned in the
rumored development plans for Phase 2 of the Wizarding World for months
now, including an innovative indoor dark coaster ride said to take
place inside Gringott's Wizarding Bank. It's no secret that the
Wizarding World has been popular¦so much so that it needed to be
expanded to spread out the crowds, and come up with a way to provide new
locations for guests to buy Butterbeer, Ollivanders wands and more. But
it seems that Universal Creative really decided to try a new idea¦ and
think really outside the box this time. Literally¦ because this new
expansion is going to allow for guests in both parks to get a taste of
the PotterVerse¦ but to get the ENTIRE experience, you'd going to have
to have a 2-park ticket.
You can read more here.
Thanks very much to Hagiographer13 and Christina for sending us these articles!