J. K. Rowling Tweets Again; Pen and Paper Remain Priority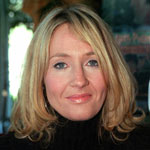 Feb 24, 2011
Harry Potter author J. K. Rowling has once again taken to her Twitter account to share the news that writing is still her top priority, but has not given any further indication on what exactly that might be. Jo tweets:
This is the real me, but you won't be hearing from me often I'm afraid, as pen and paper are STILL my priority at the moment.
As readers may recall, the Harry Potter author recently was quoted as saying she's "writing hard" on "several things at once."
Stay close to Leaky for the latest!