Fun Friday: Midnight Movie Release… In Style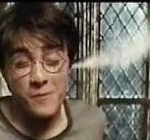 Feb 04, 2011
Everyone knows the midnight release of the latest Harry Potter film is the place to be for Harry Potter fans. TheStation captures this event and the feelings around it with a parody of a rather unlikely song.

Thinking about plans for "Harry Potter and the Deathly Hallows: Part 2″ premiere later this year? LeakyCon 2011, our conference in Orlando, Florida this July is just the place to see the final Harry Potter film at midnight with all your friends. For details on registration and what we've got in store, check out the LeakyCon website here.
This is the latest installment of Fun Fridays where we will highlight a new, cool, funny, or interesting thing created created by the Harry Potter fan community. This could be anything from a funny spoof on YouTube, a particulary clever cartoon, or something awesome created by our community. If you come across something that fits that description, email us at [email protected] and it may end up on a Fun Friday soon!
Thanks Bridget!