"Deathly Hallows: Part 2″ World Premiere Set to be Most Spectacular Yet; 7th July Date Announced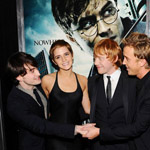 Mar 01, 2011
Warner Bros. today issued a press release announcing that London's Trafalgar Square and Leicester Square will both be the locations of the World Premiere of "Harry Potter and the Deathly Hallows: Part 2″. WB also announced a date for the premiere: 7th July 2011.
London's Trafalgar Square has not hosted a red carpet film premiere before and WB writes
The cast, filmmakers and guests attending the final Harry Potter premiere
will begin the night on the red carpet in Trafalgar Square with the
world's media in attendance. Special areas will be reserved within the
square for fans and competition winners from all over the world to see
the actors and creators of some of the most beloved characters of all
time. Cast and guests will then make their way to Leicester Square's
cinemas to watch the film.
The Mayor of London Boris
Johnson is also quoted as saying:
For the last decade we've been gripped by the on-screen battle between
Harry Potter and his arch enemy Lord Voldemort and this is one of the
most eagerly awaited films in history. As befits a great British
triumph, I can think of no better venue than the iconic surroundings of
Trafalgar Square in which to stage the most spectacular of send offs for
this dramatic finale
A quote from Josh Berger,
President and Managing Director of Warner Bros. Pictures UK adds:
We are delighted that our plans for the finale of Harry Potter and the Deathly Hallows
will take place in such a spectacular venue. We pride ourselves on the
creativity of our premieres and the space within Trafalgar Square will
lend itself to being a magical experience for both guests and fans.
"Harry Potter and the Deathly Hallows: Part 2″ is released in cinemas across the UK and Ireland on 15th July 2011.