"Deathly Hallows: Part 1″ Blu-ray Trailer Now Online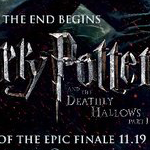 Mar 02, 2011
Entertainment Weekly has released a trailer for the Blu-ray release of "Harry Potter and the Deathly Hallows: Part 1″ including a first look at some of the bonus features and deleted scenes. Catch a glimpse of some never-before-seen footage from Part 1 right here!
Below is a complete list of the bonus features exclusive to the Blu-ray release:

An exclusive sneak peek of an opening scene from

Harry Potter and the Deathly Hallows " Part 2, which hits theaters July 15
"Maximum Movie Mode": An interactive journey through the movie hosted
by Jason Isaacs (Lucius Malfoy), and including other cast and crew,
which also revisits important moments from the previous films to prepare
us for the final battle.
"Dan, Rupert and Emma's Running Competition": Director David Yates
provides commentary for the "hilarious rivalry" that the three leads
engaged in while filming the escape scene from the Snatchers in Swinley
Forest.
"On the Green with Rupert, Tom, Oliver and James": Cameras follow
Rupert Grint, Tom Felton, Oliver Phelps (George Weasley) and James
Phelps (Fred Weasley) for a round of golf to profile the friendship they
developed over a decade of filming Harry Potter movies.
"The Seven Harrys": A look at Daniel Radcliffe's method for recreating
the personalities of the different characters for the Privet Drive
scene, as well as the visual effects.
A plug for The Wizarding World of Harry Potter that includes footage
of Radcliffe, Grint, Watson, and other cast members enjoying their first
visits for the grand opening.
A "Behind the Soundtrack" extra
"Deathly Hallows: Part 1″ will be released on DVD and Blu-Ray in the UK on April 11 and in the US on April 15.