March Snape and Draco Story Contest Announced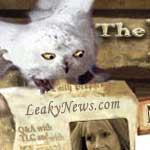 Mar 02, 2011
As it is now March, our Contest Team have announced their newest contest: the Snape and Draco Story Contest. This month's contest asks you to write a story in 1000 words or less about where Snape and Draco apparated to immediately after fleeing Hogwarts at the end of Half-Blood Prince and about what happened once they got there.
All submissions must be e-mailed to [email protected] by
11:59 pm (EDT) on 31st March, with "Snape/Draco Story" in the subject
line of the e-mail. Please copy-paste your story into the body of the e-mail and include a
name to be used for authorship (real name or Leaky Lounge name).
Anyone 13 years of age and over may enter the contest, including staff members who are not involved in the judging process, but each person may only submit one essay. Any entries found to contain the work of another author will be disqualified and please note that all entries must meet PG-13 standards of decency and good taste. Find the full contest rules and more details at this link.
The first place winner will receive a handcrafted wand donated by Wizard Wood Wands (design changes each month) and 200 MyLeaky points.
If you have any questions not answered in the FAQ, or would like to discuss this Contest, please come to the Contest Corner Forum of The Leaky Lounge.
Happy writing!