Dementors Featured in First Look at "DH: Part 1″ Blu-ray Maximum Movie Mode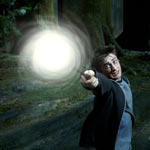 Mar 21, 2011
With just a few short weeks left before the DVD and Blu-ray release of "Harry Potter and the Deathly Hallows – Part 1," Entertainment Weekly has published a video clip from the Blu-ray Maximum Movie Mode feature.
The video includes Jason Isaacs (Lucius Malfoy) narrarating a sequence about the dementors and the design changes that took place throughout the films. The Maximum Movie Mode revisits "important moments from previous movies as a walk-up to the final installment's arrival in theaters on July 15."
"Deathly Hallows – Part 1″ will be released on DVD and Blu-ray April 11 in the U.K. and April 15 in the U.S.