Spring 2012 Opening for WB's Studio Tour London: The Making of Harry Potter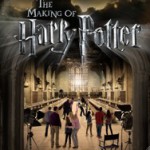 Mar 03, 2011
Official details have been announced regarding the much anticipated Harry Potter Studio Tour at Leavesden Studios, which will open to the public in the Spring of 2012, WB said today in a press release. This tour of the sound stages and sets which comprise the world of Harry Potter on film will give fans "the chance to go behind the scenes of the most successful film series of all time and witness the intricate detail that goes into a working set to see first hand what the camera doesn't show." Quoteage:

Warner Bros. Studio Tour London – The Making of Harry Potter will open in the Spring of 2012 at Warner Bros. Studios Leavesden, the production home of the Harry Potter films for over ten years.
Tickets will go on sale later this year and must be booked in advance via a dedicated website http://www.wbstudiotour.co.uk/ or through approved tour operators.
Featuring the authentic sets, costumes, animatronics, props and effects used in the production of all eight Harry Potter movies, the tour will showcase the British artistry, technology and talent that went into bringing this beloved film series to life.
Among a series of never-before-seen exhibits on the three hour long tour, visitors will be able to walk onto some of the most memorable sets from all of the films in the Harry Potter series including the iconic Great Hall, Dumbledore's office and many others to be announced at a later date.
The studio, which is currently renovating and will open up a revamped production studio portion of the complex early next year, will have a "quarter of a million square feet of dedicated soundstages, and the largest back-lot in Europe, will accommodate major film, TV and advertising productions within its secure 200 acre state of the art site in Hertfordshire." Further:

"Dark, SVP & Managing Director, Warner Bros. Studios Leavesden said, "While the Harry Potter film series reaches its highly anticipated conclusion this summer, its incredible filmmaking story and its relationship with Leavesden is set to live on with the launch of Warner Bros. Studio Tour London ' The Making of Harry Potter. The tour promises to be one of the most exciting and memorable visitor attractions anywhere in Europe, delivering an experience never before seen by the general public."
For the latest on this, and when tickets will come available, stay close to LeakyNews.com.